Bitukura Gorilla group is tracked in Ruhija section of Bwindi Impenetrable National Park. Bitukura is one of the newly or the first habituated families in Bwindi Impenetrable Forest National Park.
Bitukura group was named after a river where the family members were first sighted. Bitukura group habituation process started in July 2007 by the senior Uganda Wildlife Authority officers. The Habituation process took a minimum of two years and thereafter, it was officially offered for trekking experiences.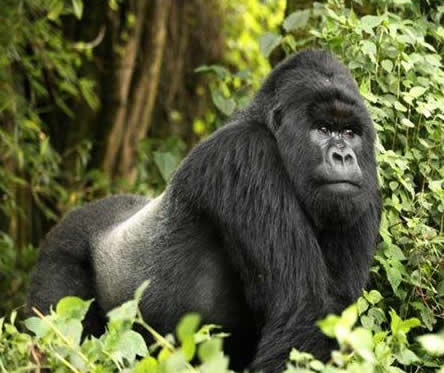 Originally, the group was 24 members but due to disputes within the family, some gorillas simply chose to leave the group and were probably recruited other families. It is a peaceable family with currently four silverbacks (April 2015), where the second youngest silverback Ndahura is the leader. He took the role from former Silverback Karamuzi who stayed over 40 years and is now retired.
Despite of the loss of several members, who defected to other gorilla families, Bitukura now looks happily and closer to one another. Especially since a new member joined the family in April 2013. Adult female Ruhara gave birth to a baby gorilla, who is closely guarded by the proud father Ndahura.
About Bwindi impenetrable national park:
Bwindi national Park is the major home for the mountain Gorillas hosting more than ten habituated groups of Gorillas that include; Mubare, Habinyanja, Rushegura, Oruzogo, Birukura, Kyaguriro, Kahunjye, Businjye, Mishaya, Nkuringo, Nshongi, etc. It is believed that half of the world mountains Gorillas are found here! The park is located far south western Uganda- 8 hours drive from Kampala. The park also inhabit other tourist attractions like water falls, Monkeys, birds, tree species, butter flies, forest elephants, leopards among others. Note that all visitors are escorted by armed ranger guides for safe custody.
Ruhijha Accommodation Options
As earlier noted that Bitukura gorilla group is found in Ruhija sector, there is a wide variety of accommodation options at different levels. These include Gorilla Mist Camp, Bakiga Lodge, Gift of Nature Lodge and other camp sites. These are found near the park headquarters and the trekking start point. However, there are other accommodation lodges and camps in Buhoma area, located 2 hours drive from Ruhija and these include Mahogany springs lodge, Gorilla Sanctuary, Buhoma Lodge, Buhoma Community Rest Camp, Bwindi View Bandas, Silverback Lodge, Gorilla Resort and Bwindi Safari Lodge managed by Volcanoes Safaris Limited. We also have more accommodation options in Kabale town, also located 2 hours drive from Ruhijha area.
Getting around Ruhija for Bitukura Gorilla Group
Ruhija area is located about 8 to 10 hours drive from Kampala or Entebbe International Airport. It can also be accessed from Kigali via Katuna boarder and this takes between 4-5 hours. Further more, Ruhija area can be accessed from Volcanoes National park in Rwanda via Cyanika boarder and this takes less than 3 hours drive. This means one can take a gorilla trek in Rwanda and combine it with another trek in Uganda (in Southern Bwindi National Park) on the same trip without back track.
How to Book Gorilla Permits for Bitukura Family
Uganda Gorilla Permits are booked from Uganda Wildlife Authority Head Quarters located on Plot 7 Kira Road, Kamwokya, P.O. BOX 3530, Kampala, Uganda.
Telephone Contacts
Office: +256 414 355000, +256 312 355000
Fax: +256 414 346 291
Reservations and Booking: +256 414 355 405/404/403/400
Email: info@ugandawildlife.org
You can also book through credible travel agents and tour operators in Kampala or in Kisoro Town or Kabale Town. The permits you book should be for Ruhija area and once your reach Ruhija, request the park warden to allocate you to Birukura gorilla family. Here we have other 2 families namely; Oruzogo and Kyaguriro. They are also good and highly recommended for a great experience in the true African Wilderness.