Comparisons Between Gorilla Habituation & Gorilla Trekking Experience
Gorilla habituation and gorilla trekking are without doubt Africa's most sought-after primate adventures. The two safari activities often confuse many tourists on gorilla safaris in Africa. Though they all offer tourists the opportunity to see gorillas in the wild, they are all different from each other in many aspects including the price of gorilla permits, how many tourists visit per gorilla group family, the time spent with gorillas, and other factors.
What does gorilla habituation mean?
Gorilla habituation is a process of initiating or training or making wild gorilla families get used to human presence. Making gorillas get used to human presence is to ensure that they don't cause any harm. It is after a gorilla family has undergone full habituation that it can be opened for gorilla trekking. The long process of habituating gorillas takes 2 years less/more and usually, it is an activity carried out by scientists, researchers, conservationists, and many others.
A group of scientists or trackers spend most of their time following, observing the daily behaviors of gorillas, name them. Gorilla habituation is, without doubt, a unique tourism activity introduced in 2014 and presently, it is conducted in Bwindi Impenetrable National Park. Bwindi Impenetrable National Park protects a significant portion of the world's endangered mountain gorillas with 20 habituated gorilla families. Its establishment in 1991 was primarily to host mountain gorillas and in 1994, it was declared a UNESCO Heritage Site.
What is gorilla trekking?
Gorilla trekking is one of the searched terms by tourists on gorilla tours in Africa. However, gorilla trekking doesn't have an actual definition. It is understood as means of hiking to see gorillas in the wild. Generally, while on gorilla trekking, tourists embark on a foot-walk experience, involving navigating via the rain forest with a purpose to see already habituated gorilla-family in the wild.
Gorilla trekking is one of the unpredictable foot-walk experiences, usually taking visitors 2-6 hours and this is inclusive of one hour every group of tourists are allowed to spend with mountain gorillas. All treks to view gorillas begin early with a briefing at the park offices and you get to understand guidelines or rules/regulations to observe while on a gorilla trek.
Where does gorilla habituation/gorilla trekking take place?
Gorilla habituation & gorilla trekking are all conducted in the rainforest of Africa and specifically, habituation is done in only Bwindi National Park in Rushaga region. Gorilla trekking is open to visitors in all the for National Parks where mountain gorillas live including Mgahinga National Park, Bwindi in Uganda, Volcanoes National Park Rwanda, and in the D.R. Congo, mountain gorillas live in only Virunga NP.
How many tourists allowed for gorilla habituation and gorilla trekking?
During gorilla habituation, only 4 (four) visitors are accepted per gorilla group and gorilla trekking takes 8 tourists per gorilla group family. Allocation of gorilla families is always done by park authorities- the park official and this is during briefing time.
Gorilla groups assigned
Gorilla habituation is conducted only in the wild gorillas or semi-habituated gorilla groups and tourists on gorilla trekking are allocated to already habituated gorilla groups. To be part of habituation, you will visit Bwindi Impenetrable National Park and specifically, Rushaga or Nkuringo sectors. Gorilla trekking is done at any of the four National Park- Volcanoes National Park Rwanda, Virunga NP, Bwindi Impe and Mgahinga Gorilla National Park.
Cost of gorilla habituation and gorilla trekking permits
Each gorilla habituation permits cost USD1500 for FNR- Foreign Non-Residents, USD1000 FR- Foreign Residents and East Africa citizens on gorilla habituation safari pay UGX750,000 per person. Gorilla trekking permits- Uganda cost US Dollars 700 for Foreign Non-Residents, US Dollars 600 (FR- Foreign Residents), UGX 250,000 East Africa citizens. All gorilla permits- whether for habituation or gorilla trekking are issued to persons above 15 years.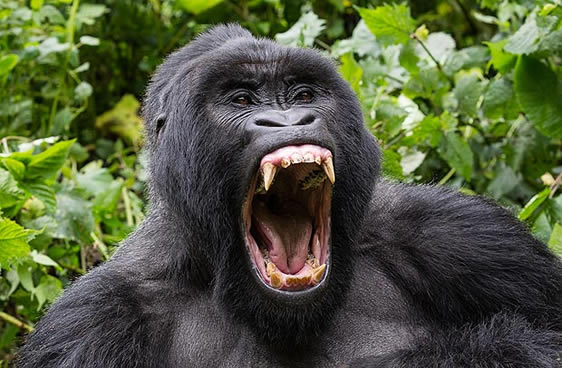 Time
During gorilla trekking, time to spend face to face with mountain gorillas is limited to only one hour. Visitors on gorilla habituation have 4 hours to spend observing various behaviors of gorillas and taking pictures etc.
Who goes for gorilla habituation and gorilla trekking?
Gorilla habituation is open to scientists, environmentalists, conservationists, trackers and takes full-day or half-day of following gorillas in their natural habitat. Gorilla trekking takes 2-6 hours and visitors/tourists search already habituated gorilla families with park guide on lead.
When to go for gorilla habituation & gorilla trekking?
Gorilla habituation and gorilla trekking are all-year-round adventures. But, the dry season is the best time to enjoy the best of these two primate experiences. There are 2 dry seasons to undertake gorilla habituation or gorilla trekking- December to February and June to September. However, because the gorillas live in mountainous tropical rain forests, it is expected to rain at any time. Therefore, highly recommended to carry warm clothes, waterproof shoes, and rain jackets. A 4×4 is a must because the roads are slippery in wet seasons. Among the recommended 4wd you can use on a gorilla safari in Uganda include Land Cruisers, Land rovers, Nissan Patrol, and small SUV Toyota Rav4 for tight-budget travelers. Fortunately, 4×4 car rental in Uganda is now very convenient with the mushrooming numbers of car rental agencies in the country. However, you must ensure that you get a suitable vehicle in perfect mechanical condition for your safari in Uganda.
What to pack for gorilla habituation & gorilla trekking?
Consider packing appropriately whether it is gorilla habituation or normal gorilla trekking in Uganda or Rwanda. The items to include on your packing list are long-sleeved shirts, gardening gloves, backpack/daypack, trousers, bottled water, sweater, good hiking boots, rain jacket, snacks, insect repellents, sunglasses, camera free of the flashlight.