GorillaExpeditions.net is an authorized gorilla trekking company in Rwanda and Uganda operating since 2006. We provide different gorilla tour programs ranging from a one-day gorilla trek to extreme gorilla adventures in Volcanoes National Park Rwanda, Bwindi Impenetrable Forest and Mgahinga National Park in Uganda as well as Virunga National Park in DR Congo. We organize trekkings, Jungle Safaris, cultural tours, mountaineering adventures, Gorilla Expeditions and other adventure sports such as bungee jumping, white water rafting, mountain biking, paragliding, canyoning and many more. Besides this, Gorilla Expeditions Limited offers travel services to Kenya, Burundi, Tanzania and Zanzibar Islands.
We have a wide range of tour packages and different activities to make your African travel experience lifetime memorable. Our team of experts takes personal care in every steps of our valuable clients providing them customized services. We are internationally famous for offering excellent services at the best prices on the market.
Mountain Gorilla Distribution in Africa
There are only 880 mountain gorillas left on earth according to 2011 gorilla census report. Half of this population is found in the misty Jungles of Bwindi impenetrable National Park in Uganda, while the remaining population lives in the Virunga Mountains that straddle Rwanda, Uganda and DR Congo. The fact that mountain gorillas are critically endangered, their habitat is now heavily protected from human activities. Majority of these gentle giants live a wild existence, far from human reach. However, there are some gorilla groups habituated for tourism purposes, tracked and observed by small numbers of visitors under the watchful eyes of park scouts. A maximum of 8 persons can visit each gorilla group day.
Where to see the Mountain gorillas in Rwanda?
Rwanda is a very small country offering a perfect destination for mountain gorilla trekking in Africa. It offers a short gorilla tour in combination with a wildlife safari or beach stay elsewhere in East Africa. Gorilla safaris in Rwanda take place in Volcanoes National Park, which is only 120 minutes drive on tarmac road from Kigali capital of Kigali international airport. A minimum of one-night stay is recommended for a single gorilla trek, and two nights would be ideal for both gorillas and golden monkeys.
Gorilla families in Volcanoes National Park – Rwanda
Rwanda has over 10 gorilla groups habituated for tracking by tourists. Many birth and death are registered in each group which means that the groups keep on increasing and decreasing. Some female juveniles may decide to shift to other groups and others prefer leaving alone. Below are the family names.
Agasha gorilla (group 13) this group derives its name from the number of individuals made up that group. The group had only 13 members hence its name, however, the group now is made up of 25 members and its located in Sabyinyo Volcano,
Amahoro group consists of 17 individual members and it's situated on the slopes of Bisoke Volcano some times tracking in this group is a bit difficult. The group is led by a dominant silverback known as Ubumwe. This group is regarded as the most peaceful group among other Rwanda gorilla groups, as its name suggests Amahoro means "peaceful group".
Bwenge comprises of 10 members and it's positioned between the group is mostly found in the Karisoke Volcano as well as Sabinyo Volcanoes, some level of physical fitness is needed when tracking in this group. The trails are sometimes muddy and very steep. The name bwenge is amazing means brightness and the leader of the group is called bwenge responsible for all activities in the group.
Hirwa has 12 members and it's situated between Sabyinyo and Gahinga Volcanoes. This is a new group, it comes into existence on the 17th of June 2006 and the group originated from Sabyinyo and Agasha who joined and formed this group. The name wonderfully means lucky one.
Kwitonda consists of 18 members and it's located within Sabyinyo and Gahinga Volcanoes. Kwitonda means ''humble and the group has two silverbacks and one blackbuck. This group is said to have migrated from the democratic republic of Congo. In this, the gorillas tend to move far but however much that's the case tracking is possible although it's considered one of the toughest groups to track.
Ntambara has 12 members and it's found between Bisoke as well as Sabyinyo Volcanoes. The name means warfare.
Sabyinyo comprises of 12 individuals and it's discovered in Sabyinyo Volcano. This group is the easiest to track since is nearer to the park. The name simply means Old man's teeth. The group is led by the dominant silverback called Guhonda, and it is also considered one of the oldest Rwanda gorilla groups.
Susa is made up of two subgroups, it consists of 43 members, it's found in Karisimbi volcano and its one of the most difficult group to track. It's the largest group given that it's subdivided into two families. The susa group is the group which Dian Fossy studied during her many years in Rwanda until when she was killed in 1985 by the poachers whom she had made her self unpopular
Ugyenda has 11 members and it's positioned between Bisoke and Sabyinyo Volcanoes. Ugenda means "being on the move" it always move from one area to another in search of a new adventure, so you are always advised that before booking with this group to first consult with a tour company to assure you that the group is present.
Umubano consists of 11 members and it's discovered in Bisoke Volcano, it originated from the Amahoro group. The name means togetherness. With all this information about gorilla trekking, you can choose any group you wish to track. Enjoy your safari in Rwanda
Planning your gorilla tour in Rwanda
When to Go Gorilla Trekking in Rwanda?
In Rwanda, gorillas are visited all year round. However, high season is from Mid June to September, then December to February. The trek in search for mountain gorillas in the wild is arduous during rainy seasons of April, May and November. Altitude is 2000m and above, therefore, it is expected to rain at any time of the year.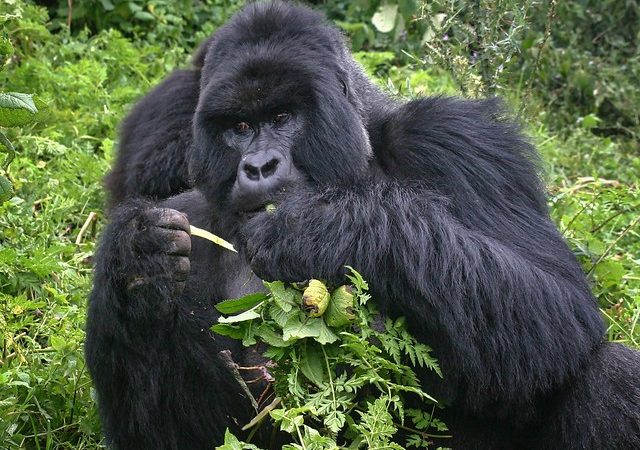 Gorilla Trekking in Uganda
Gorilla trekking in Uganda takes place in Bwindi Impenetrable forest and Mgahinga gorilla national park. Bwindi only has about 18 habituated gorilla groups located in the four sectors namely; Buhoma, Ruhija, Nkuringo and Rushaha. Mgahinga national park has one habituated gorilla group, known as Nyakagezi, one of the best and easiest gorilla groups to visit in Africa.
Besides gorilla tracking, Bwindi National Park is the only destination for gorilla habituation in Uganda, excellent birding, Batwa experience, forest walk, cultural encounters, and many others. Mgahinga, on the other hand, is famous for golden monkey tracking, birding, Batwa trail, Mountain hiking (Muhabura, Sabyinyo and Gahinga).
Gorilla Tracking Permits / Passes
A gorilla permit acts as permission to visit gorillas in the wild bamboo forest of Volcanoes National Park. Booking gorilla permits in high seasons can be difficult at short notice. You are advised to plan your safari well ahead because the demand for gorilla trekking permits is very high in search seasons. We need ample time to make proper arrangements for booking your permits/passes.
A maximum of 8 persons allowed visiting each gorilla group per day. Permits cost US$750 per person per visit for foreign non residents. Foreign Residents leaving in Rwanda, as well as Foreigners leaving in East Africa with work-permits East Africa to have a discount on gorilla permits. We expect negotiations to reduce the cost of gorilla passes in Rwanda as it is in Uganda during the low, rainy season (April, May and November). So contact us for further information on this if you're thinking of taking a gorilla trekking safari in April, May and November. Contact us for updates. In Uganda, gorilla permits cost US$600, in low seasons, the cost reduces to US$350.
Do I need to be fit to go gorilla trekking?
Mountain gorillas live in montane forests of Virunga Volcanoes National Park and Bwindi Impenetrable Forest, thus, the trek in search for these gentle giants goes through varied vegetation and slippery terrain. You will need a reasonable level of fitness and a willingness to climb up muddy slopes and through the thick growth. However, if you are not fit, you can hire porters to push/pull you when you get stuck or carry you on stretchers up to the gorillas.
Are we guaranteed to see gorillas when you set out?
We can't guarantee 100% sightings of the mountain gorillas because they move freely in the wild. However, we have never had a case where a group of tourists failed to see a gorilla group assigned because, because, the park management employs trackers who set off at dawn to locate the gorilla groups and radio their GPS co-ordinates to the park headquarters. Therefore, as you start the trek with your ranger guide, you know where to find them. The trackers stay with the gorillas and move with them until you arrive.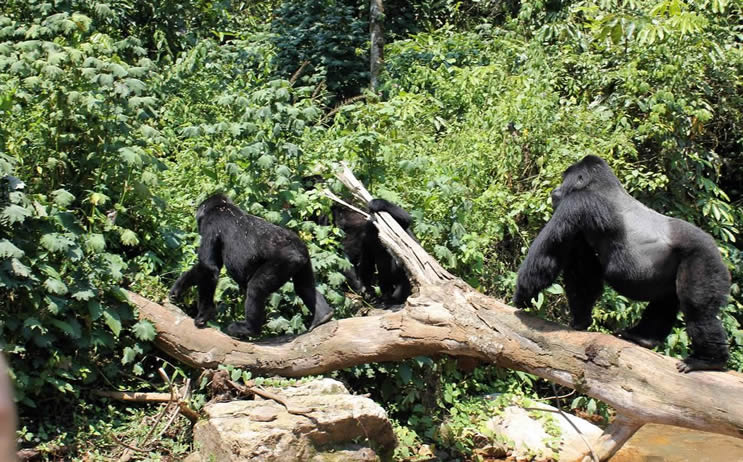 What to wear for gorilla trekking expedition?
During the trek, expect to get muddy and rained on, therefore, a waterproof jacket is recommended, hiking shoes, garden gloves, a hut, Insect repellent, long trousers to protect your legs against nettles, and a T-shirt with a long-sleeved shirt over the top. Don't forget a waterproofed day-pack for your camera, water bottle and snacks. Hire a porter to carry your day-pack and assist you up on steeper slopes. Here you directly create employment opportunities to local people and you contribute to the conservation of the mountain gorillas and their habitat.
Minimum Age for gorilla tracking in Rwanda and Uganda
One must be at least 16 years old. There is no flexibility to this rule, its enforced by the park management. There is no upper age limit.