Mountain gorillas are unique species of wildlife and like humans, they live in families, and each family is led by a mature male- silverback gorilla. When allocating mountain gorilla families to gorilla safari holidaymakers, different factors come to play. Mountain gorilla allocation exercise is usually done on the actual date of gorilla trekking in Uganda, Rwanda, or D.R. Congo. Each of these leading mountain gorilla trekking destinations has already habituated mountain gorilla families or groups set for tourism purposes.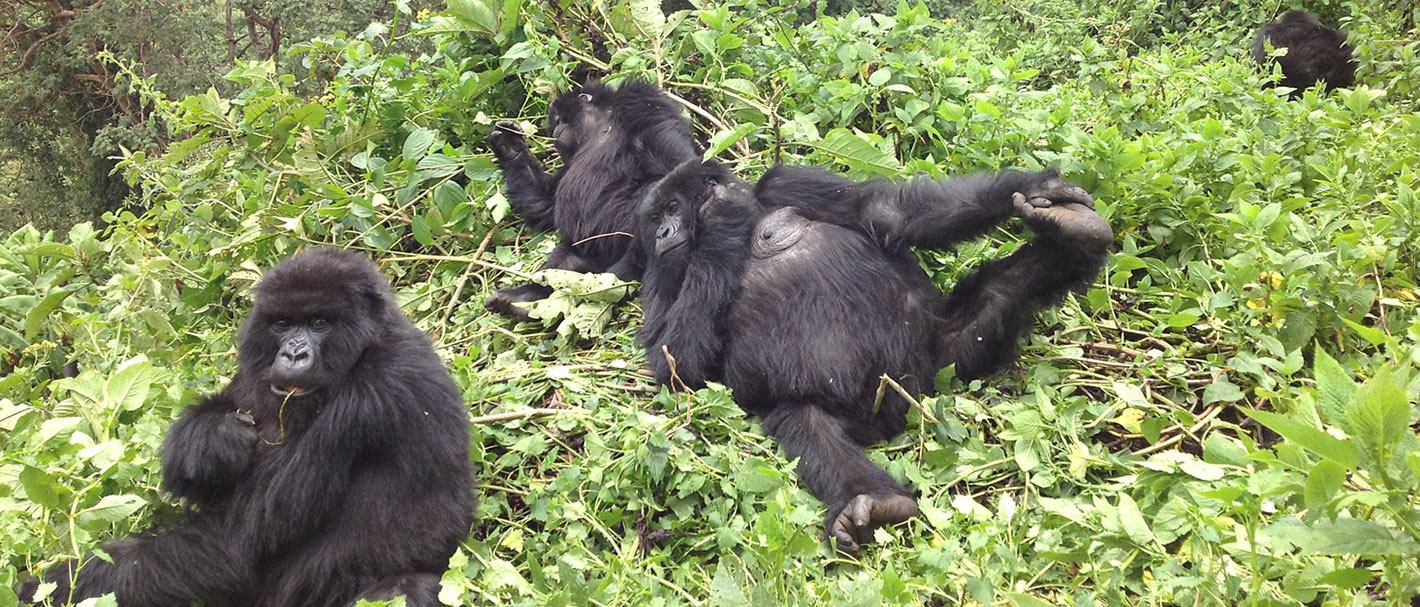 Allocation of mountain gorilla families
Mountain gorilla families in Uganda, Rwanda, and D.R. Congo are only allocated to tourists or visitors with valid gorilla permits. A gorilla permit is a legal document that allows you to trek gorillas while on gorilla trekking tour in Uganda's Mgahinga Gorilla National Park, Bwindi Impenetrable National Park or Volcanoes National Park in Rwanda.
In Uganda, there are 5 gorilla trekking locations, 4 in Bwindi (Buhoma, Ruhija, Nkuringo and Rushaga) and Ntebeko in Mgahinga Gorilla National Park. Gorilla permits are purchased depending on the gorilla trekking region or location and in every gorilla area/region, there are habituated gorilla families.
A total of 21 habituated mountain gorilla families are distributed within the 5 gorilla locations in Uganda each gorilla group is trekked by only 8 tourists per day. Only 8 are in D.R. Congo and 13 families are in Rwanda. The cost of gorilla permits also varies from one gorilla destination to another- Uganda issues her permits at USD700 and if you are interested in gorilla habituation experiences, permits are sold at USD1500; in Congo USD450 and Rwanda gorilla permits can be purchased at USD1500 per person.
The age of a visitor is another important factor that is often put into consideration during mountain gorilla families' allocation. The park official can use details on your passport to ascertain the age of visitors. However, age isn't a good determinant of trekkers' ability to complete a gorilla trek. There are cases where a 60-year-old proves fitter than a 23-year-old. If a trekker is 60 years and feels fit to tackle tougher hikes, he or she can inform the park office of his or her ability. This also applies to the young trekkers who may be unfit- you are advised to let the park official early so that you are allocated to a gorilla family that you will manage. Trekkers below 19 years usually go for easy/medium treks considering their mental preparedness for gorilla trekking. Note, only tourists above 15 years are eligible to undertake gorilla trekking experience- Uganda or Rwanda.
Level of physical fitness/altitude
Mountain gorillas are found in different locations, some live on a higher elevation and others prefer lower elevation requiring varying fitness levels. To find mountain gorilla families, visitors will be required to trek via terrains characterized by dense vegetation, valleys, hills, and more. Things can even go worse if the gorilla families live far away from the briefing point.
Visitor fitness levels are often used to allocate gorilla families in Uganda, Rwanda, and D.R. Congo which is why it is essential to have the respective park authorities/official informed about your level of physical fitness. Elderly, persons with disabilities or expectant mothers have other options including the use of sedan gorilla chairs. Besides, each gorilla group family features distinct characteristics with some taking a long or short time to find but on finding gorillas, there is a standard one hour to enjoy face to face with them.
Visitor preference or interest plays an important part in the allocation of gorilla families in Uganda, Rwanda, or D.R. Congo. Preferences differ from visitor to visitor on gorilla trekking safari. You are advised to inform the ground tour operator of your gorilla trekking location or area of interest or the gorilla family you desire to track. By so doing, it makes it easier to plan for a successful gorilla trekking tour.
Seasons also play a significant part when it comes to mountain gorilla families allocation in Uganda, Rwanda, and D.R. Congo. However, finding a favorite gorilla family may be challenging especially during the peak season. Unlike the peak season, during the low or wet/rainy season, there are higher chances for visitors to be allocated to your favorite family of mountain gorillas. The low season often attracts fewer visitors due to the nature of the gorilla habitat, unlike the dry or peak season when more tourists flock into different gorilla trekking destinations.
Times of trekking mountain gorillas
In case you have already trekked a particular gorilla group- especially for visitors on double gorilla trekking safaris, the next day you will be allocated to a different gorilla family. The allocation will depend on visitors' choice and you can even choose to track the same gorilla group that you trekked the previous day.
What happens during gorilla trekking in Uganda, Rwanda and D.R. Congo?
Once you have arrived at the gorilla safari destination of your choice for gorilla trekking, the allocation of gorilla families is done during briefing time that starts at 7:00 am. The park guides accompany different groups of trekkers and in each group, there will be 8 visitors trekking one habituated gorilla family per day.
Gorilla families in Uganda & regions
There are 21 habituated mountain gorilla families thriving in the 2 (two) National Parks in Uganda- Bwindi Impenetrable National Park and Mgahinga Gorilla National Park. 20 families are in the four regions of Bwindi National Park, that is, Buhoma, Nkuringo, Rushaga, and Ruhija, and only one region in Mgahinga National Park which is Ntebeko.
Ruhija gorilla families include Oruzongo, Bitukura, Kyaguriro; Buhoma has Habinyanja, Katwe, Mubare, Rushegura. Other families of mountain gorillas to explore include Busingye, Bikingi, Mucunguzi, Bushaho, Nshongi, Bweza, Kahungye, Nkuringo, Christmas and more.
Where else to visit to see mountain gorillas? Other than the two National Parks in Uganda, the other unique places worth visiting to view mountain gorillas include Rwanda's Volcanoes National Park in Ruhengeri and Virunga National Park of D.R. Congo.  In D.R. Congo, visitors can still embark on lowland gorilla trekking to see Eastern Lowland gorillas.
Tips
If you are planning a Uganda road trip to see the mountain gorillas in their natural habitats, you require a strong 4×4 vehicle to access the gorilla destinations. And your packing list should contain the following items;
Long-sleeved shirts and pants
Sunglasses
Insect repellent
Waterproof hiking boots
A hat
A pair of garden gloves
Drinking water and snacks